Welcome to Bishop John
We welcome the Right Reverend John Sherrington to the parish this weekend, 4th/5th November. Bishop John will be celebrating Mass at 6:30pm Saturday, 9:45am and 11:15am Sunday. There will be time to meet him after these Masses. Tea and coffee will be available after 11:15am Mass in the church porch. There will also be opportunities on Sunday to speak privately with the Bishop. Please pray for his visit.
Sick and Retired Priests Fund Collection
This weekend, we ask for your help to support our sick and retired priests, to give them the care they need, at a time they need it the most. Most priests offer their resignation at 75, but many continue to serve in our schools, hospitals, hospices and parishes. By supporting the Sick & Retired Priests' Fund, you can help cover essential costs and give them peace of mind that in the event of an emergency, their needs will be met. They have given to us all and now, in their old age or sickness, they need us to give back. This is our chance to say thank you to our sick and retired priests who have given so much. You will find a donation envelope at the back of the church. Please place your donation – Gift Aided if possible – in the retiring collection today and please continue to pray for the wellbeing of all of our clergy: active, retired and ill. You can donate online and the envelopes and posters feature a 'QR Code' that you can scan with a phone camera to give online.
Letter from the Latin Patriarch of Jerusalem
Cardinal Pizzaballa: Unite our feelings with those of Jesus at this tragic moment for the Holy Land – you can read the letter, dated October 24th and read at some masses last weekend, at https://tinyurl.com/3kk36435.
Holy Souls lists
Holy Souls lists and envelopes are available at the back of the church and the form is also available here. Please hand your list with your donation in the envelope provided to the priest or parish office. The lists will be displayed before the Altar during November with Masses offered for the souls of your deceased family members and friends.
Missio red Boxes
If you left your Red Box to be emptied, please collect it from the Sacristy.
Services
Sunday Masses are at 6:30pm (Saturday), 9:45am,  11:15am (Livestreamed) and 7pm.
Sunday Scripture readings
Notes on the Scripture readings
Weekday Masses are normally at 9am Monday, Tuesday Wednesday and Friday after Morning Prayer at 8:45am.  There is also a 7pm Mass on Tuesday where the homily is focused on teaching. Note: Church is closed and there is no Mass on Thursday. If there is a Funeral Mass, there will be no 9am Mass.
Rosary: Tuesday and Friday after 9am Mass
Confession: The Sacrament of Reconciliation or Confession is available on Saturday evening from 6-6:20pm.
Family Room: This week's activity reflects on Celebrating the service of priests.
Coming up
Legion of Mary: will meet in in the Parish Rooms on Sunday 5th November at 3:30pm
Life Ascending Group: meets on Tuesday, 7th November, at 10am.
Thursdays Together: Every Thursday lunchtime 11:30am – 1:30pm in the hall in Stapleton Hall Road (next to St Aidan's School). Meet your neighbours and chat over light refreshments.
Synod update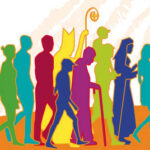 Women and the laity, diaconate, ministry and magisterium, peace and the climate, the poor and migrants, ecumenism and identity, new languages and renewed structures, old and new missions (including the "digital" mission), listening to all and probing everything more deeply, even the most 'controversial' issues. In the Synthesis Report approved and published by the 16th General Assembly of the Synod on Synodality, there is a renewed look at the world and the Church and their demands. After four weeks of work, the General Assembly has concluded its first session. The work of the assembly took place "while wars both old and new have raged in the world, with dramatic consequences that are impacting upon countless victims." The report says, "The cry of the poor resounded among us, of those forced to migrate and of those suffering violence and the devastating consequences of climate change. We heard their cry not only through the media, but also through the voices of many present, who were personally involved in these tragic events whether through their families or their people". To these many challenges, the universal Church has tried to offer a response in the Synthesis Report, which traces the path for the work to be done in the second session in 2024. Read more about the Synod report on Vatican News.
2023-2024 Sacramental Programs
Catechists needed: We are looking for confirmed Catholics to become part of the Sacramental Programme here in the parish by becoming a catechist. If you are interested in getting involved please get in contact with Fr David.
New Servers, Readers, Eucharistic Ministers needed
Do you have a child who has received their first communion and wants to be an Altar Server? Do you have the voice and the confidence to proclaim the Word of God at Mass? Interested in becoming a Eucharistic Minister? Please contact Fr David.
Upper Room Leadership Programme
Aged 18-22 years old? Westminster Youth Ministry is developing a training programme for Young Catholic Leaders. Prepare to begin a life changing journey of formation, training, and prayer with 20 other young Catholics in the Diocese. Starting in the Upper Room and accompanied by Mary, Mother of God, we will set out together to prepare for a life of professional and spiritual leadership, to carry out the Great Commission, and "make disciples of all nations" (Mt 28.19).
Join us, and experience inspiring places and talks across several locations in the Diocese, build relationships with others in small groups, access unique resources to learn and grow in practical skills for leadership and mission, and discover your unique calling to build up the Church (Eph 4:12). Be quick! Applications close on the 11th November. Visit https://youth.rcdow.org.uk/programmes/upper-room-leadership-programme/ to apply or email youth@rcdow.org.uk for enquiries.
Saying Goodbye Remembrance Service
On the 26th November at 3:30pm in Methodist Central Hall, Westminster. Anyone who has either personally lost a baby at any stage of pregnancy, at birth, or in early years, or who has been affected by family members' or friends' loss. Whether the loss was recent or 80 years ago, everyone is welcome to attend. We have also extended the services, and gladly welcome anyone who is grieving the fact that they haven't had children. Whatever the reasons, all are welcome. Babies and children are also invited to come with their families, as the Saying Goodbye service is truly a family event for all.
Other News:
Ecumenical Lectio Divina prayer meeting: slow, prayerful, meditative reflection and discussion of a passage of Scripture – at 7:30pm and taking about an hour on Thursday evenings in The London Catholic Worker chapel, the former Church of St Augustine of Canterbury on Mattison Road, Green Lanes.
Soup Run Appeal We are running low on tinned tuna at present. Donations (family-size tins are best please) can be left in the box by the church entrance. If you are able to help drive and/or distribute to the homeless in Central London, please contact Kit Greveson on 020 8340 0557, 07507 138 582 or email kit.greveson@gmail.com. We meet every Saturday at 6pm to drive/distribute for approx. 3 hours. Many thanks.
Food Bank donations: As more and more people need to access food banks, we would ask anyone who is able to donate, when they can, to one of our local food banks. Contributions can be made to Holy Trinity Foodbank on Sundays between 1pm and 3:30pm. Please come to the Church Hall on Stapleton Hall Road, next to St Aidan's School, N4 4RR, near the Albany Road junction.
Diocesan Pilgrimage Lourdes 2024 Next year's Diocesan Pilgrimage to Lourdes will be from 19th to 26th July. Complete an 'Expression of Interest' form and you will be contacted when bookings open.
The Good Counsel Black Tie Ball: will take place Saturday 18th November in Kensington. Live Band. Silent Auction. London's Catholic Pro-Life Ball raising money to help save lives and change lives. Tickets £125 each. For bookings and enquiries email GCNBall@gmail.com or telephone 07795205117.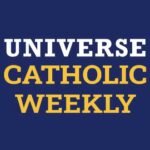 The Universe Catholic Weekly The Universe Catholic Weekly gives Catholics the chance to read about this country and the world through the lens of their religion. Digital and printed editions are available to subscribers. Visit their website for more information.
Please pray for: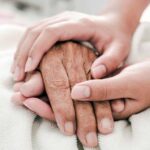 Those who are ill: Christian Overal, Antonio Neto, Zintra Sansom, Brenda Buzec, Amy Gordon, Annette Donivar, Caroline Hilton, Karin Summers, Graham Summers, Joan Summers, Helen Kozlowski, Don Brewis, Roman Cholij, Adeline Oyekoya, Mary Wallace, Sister Pia, Margaret Whelan, Kitty Madden, Brendan Whelan, Claire Marchand, Mike Coombes, Mira Lidstone, Gemma Francis, Richard Simon, Noah Purcell–Chandler, Nathalie Renford, Jackie Loivette, Michael Reid, Wendy Fairhurst, Ann Elizabeth Bennett, Joseph Lunn, Michael Hurley, Enid Samaru, Emilie Alcaraz, Ann Kozlowski-Hunt, Gabriel Brimacombe-Rand, Marie-Christine Polak, Frank Farrell, Peter Leung, Sr Ann Heaney, Elizabeth Herbert, Mr Anthony Mark Selvarajah.
Those who have recently died.