Call for Prayer and Fasting for Peace in the Holy Land
As we look on at the humanitarian catastrophe in the Holy Land with hearts that cry out to God for an end to war and violence, the Latin Patriarch of Jerusalem, His Beatitude Pierbattista Pizzaballa, has called for a day of fasting, abstinence, and prayer for peace and reconciliation on Tuesday 17 October.
"The pain and dismay at what is happening is great. Once again we find ourselves in the midst of a political and military crisis. We have suddenly been catapulted into a sea of unprecedented violence." "Yet, in this time of sorrow and dismay, we do not want to remain helpless." "That is why we feel the need to pray, to turn our hearts to God the Father. Only in this way we can draw the strength and serenity needed to endure these hard times, by turning to Him, in prayer and intercession, to implore and cry out to God amidst this anguish."
Families may wish to look at our Family Room activity which this weekend encourages families to pray the rosary for peace on Tuesday.
Synod update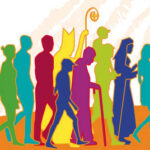 As the Synod on Synodality entered its second week on Oct. 9, some 460 participating bishops and lay members focused on the theme of "communion" and considered how the church might provide greater welcome to all of its members. "If we act like Jesus, we will testify to God's love for the world," said Luxembourg Cardinal Jean-Claude Hollerich, one of the principal coordinators of the 2023 synod. "Jesus extended this communion to all the sinners. Are we ready to do the same?" he asked at the beginning of the second week. Please continue to pray that the Holy Spirit will inspire and guide the conversations in Rome for the good of the whole Church.
Pope Francis' October Prayer Intention – For the Synod – "Let us pray for the Church, that she may adopt listening and dialogue as a style of life at every level, allowing herself to be guided by the Holy Spirit towards the world's peripheries." "Through prayer and discernment, the Holy Spirit helps us carry out the "apostolate of the ear," that is, listening with God's ears in order to speak with the word of God,"
CAFOD Harvest Appeal – Thank you!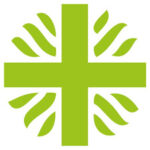 You gave over £1,200 last weekend. You can still donate using the CADOD envelopes, use the QR code on the envelope or online.
World Mission Sunday
'Hearts on fire, feet on the move'- cf. Luke 24:13-35 World Mission Sunday, next Sunday, 22nd October, is a globally celebrated moment of grace. It's a chance to pray and give to support our sisters and brothers in Christ who live in areas of poverty, conflict and oppression. Every parish, school and community is invited to join this special event. And every penny, pound and prayer you give to Missio helps missionaries everywhere continue their work. There will be a retiring collection after next weekend's Sunday Masses or you can give online. If you have a Missio Red Box at home that needs emptying, please bring it to church and leave it in the Sacristy or give it to Fr David. Make sure it has a label with your name on it. Thank you.
2023-2024 Sacramental Programs
Confirmation: The first meeting of our confirmation program for parents and candidates will take place on Saturday, 4th November in church at 10:30am.
Catechists needed: We are looking for confirmed Catholics to become part of the Sacramental Programme here in the parish by becoming a catechist. If you are interested in getting involved please get in contact with Fr David.
Services
Sunday Masses are at 6:30pm (Saturday), 9:45am,  11:15am (Livestreamed) and 7pm.
Sunday Scripture readings
Notes on the Scripture readings
Weekday Masses are normally at 9am Monday, Tuesday Wednesday and Friday after Morning Prayer at 8:45am. There is also a 7pm Mass on Tuesday where the homily is focused on teaching. Note: Church is closed and there is no Mass on Thursday. If there is a Funeral Mass, there will be no 9am Mass.
Rosary: Tuesday and Friday after 9am Mass
Confession: The Sacrament of Reconciliation or Confession is available on Saturday evening from 6-6:20pm.
Family Room: This week's activity reflects on Praying the Rosary for peace.
New Servers, Readers, Eucharistic Ministers needed
Do you have a child who has received their first communion and wants to be an Altar Server? Do you have the voice and the confidence to proclaim the Word of God at Mass? Interested in becoming a Eucharistic Minister? Please contact Fr David.
Bishop's Visitation
Bishop John Sherrington, the auxiliary Bishop with responsibility for the Haringey Deanery, will visit the Parish on the weekend of 4th and 5th November. He will be with us for the whole weekend to meet parishioners and get involved in the pastoral work of the parish. Please pray for his visit.
October – Month of the Rosary
The Month of October is traditionally dedicated to praying the rosary. You are welcome to join the parishioners who pray the rosary after morning Mass each Tuesday and Friday – perhaps with the intentions of peace in the Holy Land.
Coming up
Legion of Mary: Will meet in in the Parish Rooms this Sunday 8th October at 3:30pm
Holy Trinity Taize-style service: at Holy Trinity on Sunday 15th at 6pm. All welcome.
Thursdays Together: Every Thursday lunchtime 11:30am – 1:30pm in the hall in Stapleton Hall Road (next to St Aidan's School). Meet your neighbours and chat over light refreshments.
Way of the East: An introductory series for people curious about the life and faith of the Eastern Churches. Starting on 14th October and running through to 2024 at the Ukrainian Cathedral of the Holy Family, W1K 5BQ. More information online.
The Divine Mercy Apostolate: is holding a retreat at Most Precious Blood and St Edmund Campion Church, 115 Hertford Road, Edmonton, London N9 7EN on Saturday 21 October from 1:30 to 4:30 pm. The retreat will include teachings on the Message of Divine Mercy, Mass, Hour of Mercy with Stations of the Cross, Adoration and Benediction and Veneration of the Image of Merciful Jesus. Call Millie on 07957 594646 for more information.
"Who is my neighbour?" On Wednesday October 18th from 1:30 to 3pm. Archbishop Emeritus Kevin McDonald will speak on "All in the same boat" his study of Fratelli tutti in our series "Who is my neighbour?" We meet in the Hinsley Room Morpeth Terrace SW1 1EP. All are welcome and there will be refreshments.
Ecumenical Lectio Divina prayer meeting: slow, prayerful, meditative reflection and discussion of a passage of Scripture – at 7:30pm and taking about an hour on Thursday evenings in The London Catholic Worker chapel, the former Church of St Augustine of Canterbury on Mattison Road, Green Lanes.
Other News:
Soup Run Appeal We are very short of Mayonnaise at present. Donations (family-size jars are best please) can be left in the box by the church entrance. If you are able to help drive and/or distribute to the homeless in Central London, please contact Kit Greveson on 020 8340 0557, 07507 138 582 or email kit.greveson@gmail.com. We meet every Saturday at 6pm to drive/distribute for approx. 3 hours. Many thanks.
The London Catholic Worker 49 Mattison Road, N4 1BG, run a house of hospitality for homeless and destitute asylum seekers who are not allowed to work and not able to claim any social security benefits. Post-Covid we now have 11 guests in the house again. As we don't get any money from the government we rely very much on food donated to us – Tinned tomatoes, Vegetable oil, Instant coffee, Tinned beans (chickpeas, kidney beans etc.) Red and Green Lentils, Rice, Porridge Oats, Tinned fish, Muesli, Cereal, Chilli & soy sauce, Honey, Mayonnaise, Cheese, Herbs & Spices, Sugar, Long life Fruit juice and squash, Herbal tea, Peanut butter / chocolate spread, Nuts and seeds, toiletries and household cleaning products. We appreciate times are hard for many and that you may already support other local initiatives but anything you can give will be appreciated.
Food Bank donations: As more and more people need to access food banks, we would ask anyone who is able to donate, when they can, to one of our local food banks. Contributions can be made to Holy Trinity Foodbank on Sundays between 1pm and 3:30pm. Please come to the Church Hall on Stapleton Hall Road, next to St Aidan's School, N4 4RR, near the Albany Road junction.
Home urgently needed to rent: Tottenham Refugee Alliance is looking to secure rented accommodation suitable to house a refugee family under the Community Sponsorship Programme. We will support the landlord with upgrading suitable housing and settling the family, supporting them in all their needs to take their place in this local community. Interested landlords should contact us at housing@tottenhamrefugees.org.uk
Diocesan Pilgrimage Lourdes 2024 Next year's Diocesan Pilgrimage to Lourdes will be from 19th to 26th July. Complete an 'Expression of Interest' form and you will be contacted when bookings open.
The Good Counsel Black Tie Ball: will take place Saturday 18th November in Kensington. Live Band. Silent Auction. London's Catholic Pro-Life Ball raising money to help save lives and change lives. Tickets £125 each. For bookings and enquiries email GCNBall@gmail.com or telephone 07795205117.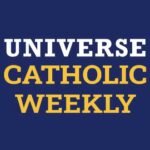 The Universe Catholic Weekly The Universe Catholic Weekly gives Catholics the chance to read about this country and the world through the lens of their religion. Digital and printed editions are available to subscribers. Visit their website for more information.
Please pray for: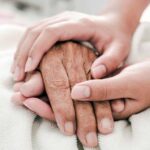 Those who are ill: Christian Overal, Antonio Neto, Zintra Sansom, Brenda Buzec, Amy Gordon, Annette Donivar, Caroline Hilton, Karin Summers, Graham Summers, Joan Summers, Helen Kozlowski, Don Brewis, Roman Cholij, Adeline Oyekoya, Mary Wallace, Sister Pia, Margaret Whelan, Kitty Madden, Brendan Whelan, Claire Marchand, Mike Coombes, Mira Lidstone, Gemma Francis, Richard Simon, Noah Purcell–Chandler, Nathalie Renford, Jackie Loivette, Michael Reid, Wendy Fairhurst, Ann Elizabeth Bennett, Joseph Lunn, Michael Hurley, Enid Samaru, Emilie Alcaraz, Ann Kozlowski-Hunt, Gabriel Brimacombe-Rand, Marie-Christine Polak, Frank Farrell, Peter Leung, Sr Ann Heaney.
Those who have recently died.