World Day of Migrants and Refugees
World Day of Migrants and Refugees is celebrated by the Church every year on the last Sunday of September. 2023 marks the 109th anniversary of World Day of Migrants and Refugees. The theme for this years' celebration is 'Free to choose whether to migrate or to stay'. For many today, migrating is their only choice. Everybody should be able to live their best life and to be able to feel safe and secure – whether in their home country or the place they come to call home. Sadly, our common home is not a place of safety, peace and welcome for all. How can we build our common home together? The Holy Father in his WDMR message says: 'Only by walking together will we be able to go far and reach the common goal of our journey.' The theme, and indeed the Holy Father's message, echoes many of the principles found in the Bishops' document on refugees and migrants published earlier in 2023 – Love the Stranger. The Pope's message for WDMR can be seen on the Bishops' Conference website.
Thank you and safe journey Fr Joachim
We say thank you to Fr Joachim for his service while Fr David has been away and wish him a safe journey back home to Nigeria on Monday hoping he has enjoyed his stay with us in London.
2023-2024 Sacramental Programs
First Communion: Parents of children in Year 3 or above wishing to make their first Holy Communion next year please collect a First Communion Form and return it to Fr David by October 1st. Confirmation: Young people who are in Year 9 or above who wish to be confirmed should collect an application form from Fr David and return it by 1st October. Adult Faith Formation: Coming to Mass but not a Catholic? Thinking of becoming a Catholic? Catholic but not made your confirmation? Looking to know more about your faith? On TUESDAY 3rd OCTOBER AT 8PM IN THE PRESBYTERY Fr David and the RCIA Team will be hosting an informal enquiry evening, an opportunity to chat and enjoy some snacks. This first gathering is for information and enquiry, there is no obligation to make any commitment to become Catholic.
Services
Sunday Masses are at 6:30pm (Saturday), 9:45am,  11:15am (Livestreamed) and 7pm.
Sunday Scripture readings
Notes on the Scripture readings
Weekday Masses are normally at 9am Monday, Tuesday Wednesday and Friday after Morning Prayer at 8:45am. Note: Church is closed and there is no Mass on Thursday. If there is a Funeral Mass, there will be no 9am Mass.
Rosary: Tuesday and Friday after 9am Mass
Confession: The Sacrament of Reconciliation or Confession is available on Saturday evening from 6-6:20pm.
Family Room: This week's activity reflects on Giving thanks for our guardian angels and all angels.
Pastoral Letter from Cardinal Vincent Nichols: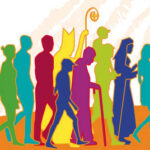 Last Sunday's letter about the forthcoming Synod meeting in Rome is available online and copies are still available at the back of church.
Soup Run Appeal
We are very short of Mayonnaise at present. Donations (family-size jars are best please) can be left in the box by the church entrance. If you are able to help drive and/or distribute to the homeless in Central London, please contact Kit Greveson on 020 8340 0557, 07507 138 582 or email kit.greveson@gmail.com. We meet every Saturday at 6pm to drive/distribute for approx. 3 hours. Many thanks
Coming up
Legion of Mary: Will meet in in the Parish Rooms this Sunday 24th September at 3:30pm
Life Ascending Group: Meets in the parish rooms at 10am on Tuesday 26th September
Westminster Cathedral Grand Organ Festival: The final Recital on 27th September is at 7:30pm; tickets on the door £15 (£12 concessions). More info online.
CAFOD Harvest Fast Day: is on Friday 6th October with the collection taking place on Sunday 8th October.
The annual Diocesan Mass for Altar Servers: will take place on Saturday, 7th October at 2.30pm in the Cathedral. All altar servers are invited to attend and to vest in the Cathedral Hall in order to be ready to process by 2pm.
Prisoners Sunday: is kept this year on Sunday, 8th October
Padre Pio Group: Meets next on Sunday 8th October – note date.
Candlelit Procession of Our Lady of Willesden: On Sunday 8th October at 7pm, there will be a candlelit procession with the Statue of Our Lady of Willesden from the shrine church and through the streets of Willesden, praying for the protection of London and for the gift of vocations to the priesthood.
Way of the East: The Society of St John Chrysostom is offering an introductory series for people curious about the life and faith of the Eastern Churches. Starting on 14th October and running through to 11th May 2024 it will take place from 1.30pm on the second Saturday of every month, at the Ukrainian Cathedral of the Holy Family, W1K 5BQ. More information online.
Thursdays Together: Every Thursday lunchtime 11:30am – 1:30pm in the hall in Stapleton Hall Road (next to St Aidan's School). Meet your neighbours and chat over light refreshments.
Ecumenical Lectio Divina prayer meeting: slow, prayerful, meditative reflection and discussion of a passage of Scripture – at 7:30pm and taking about an hour on Thursday evenings in The London Catholic Worker chapel, the former Church of St Augustine of Canterbury on Mattison Road, Green Lanes.
LSU Open Mornings: Open Mornings Tue 10 & Wed 11 October from 9am – booking required – see website.
Secondary School Transfer Forms: Fr David will be available for signing Secondary transfer forms on Monday 25th September from 5pm at the presbytery or after mass.
Other News:
Are you a student at one of the universities or colleges in London, or in Hatfield? Our Catholic Chaplaincy is for you! It's based at Newman House, 111 Gower Street, WC1E 6AR. We have Sunday Masses for students and regular events during the week. And in many of the universities and colleges we also have campus-based Catholic societies and activities. Go to: www.universitycatholic.net to find out more. You will be made very welcome at our Catholic community here, a 'home from home.' If you are heading to a university outside London, then why not take a look at https://www.catholicsatuniversity.org.uk/ to identify the Catholic chaplaincy in your place of study. Your Catholic chaplains look forward to meeting you!
Food Bank donations: As more and more people need to access food banks, we would ask anyone who is able to donate, when they can, to one of our local food banks. Contributions can be made to Holy Trinity Foodbank on Sundays between 1pm and 3:30pm. Please come to the Church Hall on Stapleton Hall Road, next to St Aidan's School, N4 4RR, near the Albany Road junction.
Home urgently needed to rent: Tottenham Refugee Alliance is looking to secure rented accommodation suitable to house a refugee family under the Community Sponsorship Programme. We will support the landlord with upgrading suitable housing and settling the family, supporting them in all their needs to take their place in this local community. Interested landlords should contact us at housing@tottenhamrefugees.org.uk
Diocesan Pilgrimage to the Holy Land – Sunday 19th to Monday 27th November. Route: Galilee – Jerusalem – Bethlehem. Flying from Heathrow on BA, cost for full board is £2265 per person sharing a room. Book online or call Gill at Tangney Tours 01732 886666 or Elizabeth at the Pilgrimage office 0207 798 9173
Ecumenical Holy Land Pilgrimage – 11th – 18th March 2024: Price £1,975 pp based on two people sharing (Single Supplement £550). Limited places available, booking deadline is 30th September 2023 so please book promptly to ensure your place. This Pilgrimage is unsuitable for those with limited or significantly challenged mobility. For full information visit: https://www.jcjourneys.com/london/westminster/ecumenical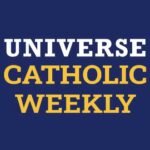 The Universe Catholic Weekly The Universe Catholic Weekly gives Catholics the chance to read about this country and the world through the lens of their religion. Digital and printed editions are available to subscribers. Visit their website for more information.
Please pray for: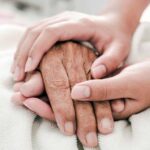 Those who are ill: Christian Overal, Antonio Neto, Zintra Sansom, Brenda Buzec, Amy Gordon, Annette Donivar, Caroline Hilton, Karin Summers, Graham Summers, Joan Summers, Helen Kozlowski, Don Brewis, Roman Cholij, Adeline Oyekoya, Mary Wallace, Sister Pia, Margaret Whelan, Kitty Madden, Brendan Whelan, Claire Marchand, Mike Coombes, Mira Lidstone, Gemma Francis, Richard Simon, Noah Purcell–Chandler, Nathalie Renford, Jackie Loivette, Michael Reid, Wendy Fairhurst, Ann Elizabeth Bennett, Joseph Lunn, Michael Hurley, Enid Samaru, Emilie Alcaraz, Ann Kozlowski-Hunt, Gabriel Brimacombe-Rand, Marie-Christine Polak, Frank Farrell, Peter Leung, Sr Ann Heaney.
Those who have recently died: John Quinn, Nancy Rattigan (a former parishioner who moved to Palmers Green a few years ago) RIP.