Easter – Thank Yous!
Thank you to everyone who  came to celebrate Easter with us. It was a very special and prayerful time. And we thank all those who, alongside Fr Sean, gave their time and talents to make those celebrations so special – not just those we saw and heard at the services but also those who worked unseen and whose contributions were just as important. And, as a reminder, we publish the beautiful Bidding Prayers written for us by Fiona.
Thank you also for the Easter cards and gifts and your generous Easter Offerings.
Divine Mercy Sunday
Saint Faustina Kowalska, a Polish nun, received visions of Jesus, who asked her to paint the vision of His merciful divinity being poured from his Sacred Heart and specifically asked for a feast of Divine Mercy to be established on the first Sunday after Easter Sunday, so that all of us would take refuge in Him. Pope John Paul II instituted the feast of Divine Mercy Sunday in 2020, the same year Saint Faustina was canonised.
Divine Mercy Sunday is the theme in the Family Room this weekend.
Responding to the war in Ukraine
Please continue to keep the people of Ukraine in your prayers. As people turn their minds to hosting Ukrainian refugees who come to the UK, Caritas Westminster is providing guidance.


DEC charities, which include CAFOD, and their local partners are in Ukraine and in neighbouring countries providing food, water, shelter and medical assistance. CAN YOU HELP? Donate online or using the wall safe at the back of church.
Appeal to support Catholic Journalism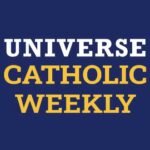 The Universe Catholic Weekly is the online successor to the former Catholic Universe. It aims to give Catholics the chance to read about this country and the world through the lens of their religion. If it is to continue in this work, it needs to increase the number of subscribers – a 3-month subscription costs just £20

Services
Church opening: For the present, the church will only be open for Masses. Please continue to observe voluntarily the wearing of face coverings and sanitising hands.
Sunday Masses are at 6:30pm (Saturday), 9:45am and 11:15am (livestreamed), 7pm.
Sunday Scripture readings
Notes on the Sunday Scripture readings
Find other livestreamed Masses in the diocese.
Weekday Masses are at 9am Monday to Friday after Morning Prayer at 8:45am unless there is a funeral or other special Mass at another time.
Holy Hour: Fridays, 7-8pm on Zoom email parish for link.
Confession: The Sacrament of Reconciliation or Confession is available on Saturday evening from 6-6:20pm.
Meetings
Padre Pio: Meets on the first Sunday of the month in church after the 7pm Mass.  The next meeting is Sunday 1st May.
Life Ascending Group: Meets fortnightly from 10-12 in the parish Rooms.  The next meeting is Tuesday 3rd May.
Legion of Mary: Next meeting Sunday 8th May at 3:30pm in the Parish Rooms.
Thursdays Together: Every Thursday lunchtime 11am – 1:30pm in the church hall at Holy Trinity, Granville Road. A chance to meet your neighbours and chat over light refreshments.
Confirmation Preparation: The next Confirmation session is on Monday 25th at 7pm in the lower parish rooms.
Other News:
Charity quiz evening in aid of Action for Kids: Holy Trinity Church Groves Room, Granville Road, N4 4EL, Friday 29th April at 7:30 PM. Tickets £8 to include food. Please bring your own drinks.
white text
white text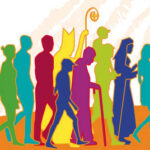 Westminster Bishops' Synodal Pathway Report: Our Bishops' report, sent to the Catholic Bishops' Conference of England and Wales on 8th April, is published on the Diocesan website. 'The Report captures well the many voices we have heard across the Diocese during the Synodal Pathway. In this way, it has been written by our parishioners young and old, our priests and deacons and religious, our school and university students, and our committed faithful. The story is theirs.' Fr Chris Vipers, Director of the Agency for Evangelisation
Pop-up community vaccine events at Brickworks Community Centre 42 Crouch Hill, N4 4BY. The Centre will be hosting two pop-up community Covid-19 vaccine events. The events are a great opportunity to gather information and get advice from a healthcare professional and if you're ready, grab your vaccine. The events will be held on: Wednesdays 27 April and 4 May 2022, 11:00am – 5:45pm.
Annual Mass for Migrants:  With government immigration policy in the news at present, the Annual Mass for Migrants at Westminster Cathedral on Monday 2nd May at 2:30pm (Banner procession 2pm) is a positive way to show our support and solidarity with the migrant communities in our diocese. The principal celebrant will be Bishop Michael Campbell OSA.
May Procession at the Shrine of Our Lady of Willesden: This year, the Shrine of Our Lady of Willesden is once more able to arrange the May Procession through Willesden to pray the Rosary asking for the prayers of the Black Madonna of Willesden, for the protection of London and for peace and restoration in Ukraine. Taking place on Sunday 8th May at 3pm, the preacher will be Bishop Kenneth Nowakowski, who will be accompanied by the Icon of the Mother of Protection, Pokrova. See attached poster.
Home urgently needed to rent: Tottenham Refugee Alliance needs a 3-bedroom home to rent asap for 2 years to house a refugee family under the Home Office Community Sponsorship Scheme – see flyer for more details.
New Altar Servers Anyone interested in becoming an Altar Server, please speak to Fr Sean. Rehearsal at 2pm in church on Saturday 23rd April.
Soup Run Appeal: Our Soup run is particularly short of tuna at present. If you would like to volunteer as a sandwich-maker, distributor or driver, contact Kit for more info by email on kit.greveson@gmail.com or call 07507 138582. Enquiries are welcomed from Duke of Edinburgh volunteers. At the moment however we have 2 DoE young people helping so would be unable to take anyone for the next few weeks.
Food Bank donations: You can find details about the times when you can donate to Holy Trinity and other local foodbanks here.
Annual Mass of Thanksgiving for the Sacrament of Matrimony: The Cardinal is inviting to this Mass at Westminster Cathedral on Saturday 14th May 2022 at 3pm, all couples in the Diocese, who are celebrating their 5th 10th, 25th, 30th, 40th, 50th and 60th (and every year over 60) wedding anniversary of Catholic marriage in 2022. If you are celebrating an anniversary, please give Fr Sean the following details: husband and wife's names, wedding date, full postal address and email (or telephone number, if no email).
Holy Land Pilgrimage: After an absence of a year, the Diocesan Pilgrimage to the Holy Land will take place once more this year. Led by Cardinal Vincent Nichols and Fr John Farrell OP, it will take place from 21st to 29th November. Walking in the footsteps of Christ and offering hope to Christian communities in the Holy Land, pilgrims will return ready for mission. Price £1,825 per person (based on two people sharing a room). For more information see poster. Contact Gill Didino at Tangney Tours on 01732 886666 for booking forms and further information.
Diocese of Westminster Lourdes Pilgrimage 2022 – Cardinal Vincent will be leading the annual diocesan pilgrimage to Lourdes from 22nd to 29th July for details and to book call 01732 886666 or visit Tangney Tours website.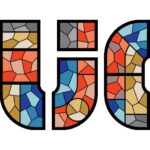 The LJC term 3 programme is also now open for registration.
For a Synodal Church: – Our Bishops' Synodal Pathway Report, sent to the Catholic Bishops' Conference of England and Wales on 8th April, is published on the Diocesan website. 'The Report captures well the many voices we have heard across the Diocese during the Synodal Pathway. In this way, it has been written by our parishioners young and old, our priests and deacons and religious, our school and university students, and our committed faithful. The story is theirs.' Fr Chris Vipers, Director of the Agency for Evangelisation
The London Jesuit Centre has made available a series of 5 videos looking at some of the history of Synodality in the Catholic Church and also explaining what Pope Francis means by a Church that is more synodal.
From the diocese:
Please pray for: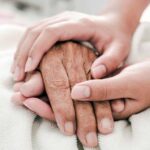 Those who are ill: Christian Overal, Antonio Neto, Zintra Sansom, Brenda Buzec, Amy Gordon, Annette Donivar, Margaret Bradley, Caroline Hilton, Karin Summers, Graham Summers, Joan Summers, Helen Kozlowski, Don Brewis, Roman Cholij, Adeline Oyekoya, Mary Wallace, Bruna Moia, Sister Pia, Margaret Whelan, Kitty Madden, Clare Bruce, Brendan Whelan, Claire Marchand, Mike Coombes, Mira Lidstone, Gemma Francis, Richard Simon, Noah Purcell–Chandler, Safina Malik, Nathalie Renford, Jackie Loivette, Michael Reid, Carmel Palao, Wendy Fairhurst, Ann Elizabeth Bennett, Joseph Lunn, Tom Shiels, Mrs Breda Cassidy, John O'Shea, Michael Hurley, Iris Roberts, Enid Samaru, Emilie Alcaraz, Kim McKenna, Ann Kozlowski-Hunt.
Those who have recently died:   Teresa McGrath, Joe Tracey, Fr Kevin McDevitt, Peter Jodoin RIP.
Collections:
For information about Sunday Mass Offerings, especially if you are not attending Mass here regularly, please look at this page.
Gift Aid your contactless donation
Scan the QRF code with your phone to register your contactless payment card for Gift Aid to the Parish. It will ask for your name, house number and postcode, an email address and a minimum donation of £1. Qualifying donations on the system at church will then automatically be treated as Gift Aided. Thank you.