Celebrating Grandparents and the elderly
In January, Pope Francis announced a new celebration in honour of all grandparents and the elderly, who are so important to our communities and our Church. This new World Day for Grandparents and the Elderly will be celebrated every year on the fourth Sunday in July, close to the feast day, on Monday 26th July, of Saints Joachim and Anne, Jesus' Grandparents.
Pope Francis' message for this day of celebration begins:
"I am with you always" (Mt 28:20): this is the promise the Lord made to his disciples before he ascended into heaven. They are the words that he repeats to you today, dear grandfathers and grandmothers, dear elderly friends. "I am with you always" are also the words that I, as Bishop of Rome and an elderly person like yourselves, would like to address to you on this first World Day of Grandparents and the Elderly. The whole Church is close to you – to us – and cares about you, loves you and does not want to leave you alone!
Later he writes:
The prophet Joel once promised: "Your old men shall dream dreams, and your young men will have visions" (3:1). The future of the world depends on this covenant between young and old. Who, if not the young, can take the dreams of the elderly and make them come true? Yet for this to happen, it is necessary that we continue to dream. Our dreams of justice, of peace, of solidarity can make it possible for our young people to have new visions; in this way, together, we can build the future.
We thank all our grandparents, living and dead, and all our elderly acquaintances for the part they have played in our lives and with Pope Francis pray "May the Lord grant you his blessing".
Family Room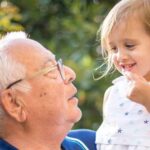 Our Family Room activity this week, of course, joins the celebration of grandparents and the elderly !!
Young Christian Climate Network Relay
A group of young Christians (18-30s) are organising a Relay, walking from the G7 in Cornwall (13th June) to COP26 in Glasgow (1st November) for climate justice. People are joining the Relay from thousands of different churches all along the route. Walkers can be of all ages.
The Relay reaches London on 2nd August and Hertfordshire on 10th August. There will be overnight stops within the Westminster parishes of Ashford, Twickenham, Muswell Hill (9th/10th August), Borehamwood, Hemel Hempstead and Tring.
Two events are beings hosted on behalf of the Diocese of Westminster in Central London on 6th August – a vegan lunch at Farm Street Church, Mayfair, at 1pm followed by a walk to Westminster Cathedral and an Ecumenical Climate Prayer Service at the Cathedral at 3:30pm.  Please follow the links to Eventbrite as booking in advance helps us to know numbers and is essential for the Lunch.
First Reconciliation and First Holy Communion 2021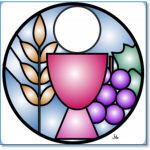 Families whose children are preparing to receive the Sacraments this year are invited to join an optional Zoom call from 10:30-11:30am on Saturday 11 September. This is an opportunity for children and families to share their progress on the "I Belong" book and to ask any questions they have. Zoom details will be sent by email this week. Please note that our catechists are taking a break over the summer, and will not be managing our catechist email account from 1 – 31 August (inclusive).
Service times
Church opening: During the holiday period of July/August the church will only be open for Masses. Please continue to observe voluntarily the wearing of face coverings, signing the contact sheet and sanitising hands as well as maintaining social distancing in church.
Sunday Masses are at 6:30pm (Saturday), 9:45am, 11:15am (livestreamed) and 7pm.
Weekday Masses are at 9am Monday to Friday after Morning Prayer at 8:45am unless there is a funeral Mass at another time.
Holy Hour on Friday from 7pm-8pm continues on Zoom. Please email us if you wish to join us or to ask us to pray for someone and have their name read out during Holy Hour.
Sunday Mass – 17th Sunday in Ordinary Time – The 11:15 Sunday Mass will be livestreamed on YouTube and will be available to watch afterwards.
11:15am Mass Hymns & Bidding Prayers
Sunday Scripture readings
Notes on the Sunday Scripture readings
Find other livestreamed Masses in the diocese.
Rest in Peace: We have learned of the death in hospital of Richard Reidy, who lived in Mayfield Road. We will publish details of his funeral when we know them. Please keep Richard and his family in your prayers. Please also pray for the repose of the soul of Kay McDougall, the aunt of our catechist Lizzie, who died peacefully in hospital in Australia on Tuesday. Please keep Kay, uncle John, who is also in hospital, Lizzie and the family in your prayers.
Love is….
… being willing to always ask for forgiveness and always being committed to grant forgiveness when it is requested.
From '23 things that Love is' by Paul Tripp
Please pray for: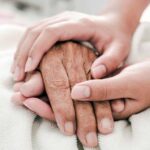 Those who are ill: Christian Overal, Antonio Neto, Zintra Sansom, Brenda Buzec, Amy Gordon, Annette Donivar, Margaret Bradley, Caroline Hilton, Karin Summers, Graham Summers, Joan Summers, Helen Kozlowski, Don Brewis, Roman Cholij, Adeline Oyekoya, Mary Wallace, Bruna Moia, Sister Pia, Margaret Whelan, Kitty Madden, Clare Bruce, Brendan Whelan, Claire Marchand, Mike Coombes, Mira Lidstone, Gemma Francis, Richard Simon, Noah Purcell–Chandler, Safina Malik, Nathalie Renford, Jackie Loivette, Michael Reid, Carmel Palao, Wendy Fairhurst, Ann Elizabeth Bennett, Gwen Dickson, Joseph Lunn, Tom Shiels, Jeremy Brock, Mrs Breda Cassidy, John O'Shea, John Sherwood.
Those who have recently died:  Tom Gordon, Sister Margaret Begley, Nora Millicent Trotman, Richard Reidy and Kay McDougall RIP.
Other News
"CCRS gave me such understanding and confidence about my faith for my parish work." 
The Catholic Certificate in Religious Studies (CCRS) provides parish leaders with knowledge and understanding of theology and the Catholic faith. 88% participants recommend the course to others. Learn in person, by distance learning or online For more information visit brs-ccrs.org.uk
"The Church evangelises by the beauty of the liturgy. Let us ask for the personal and sincere meeting with Christ who lives in the liturgy that our lives may be a spiritual sacrifice offered to God." [Pope Francis – February 2021]
'Taking Liturgy Seriously' will be run by the Society of Saint Gregory in partnership with the London Jesuit Centre and take place via Zoom from September 2021 – June 2022, and will give the opportunity to explore the Catholic liturgy through a series of distinct yet complementary modules of study. Visit this website for more information and pricing.
'The measure of the greatness of a society is found in the way it treats those most in need, those who have nothing apart from their poverty.' – [Pope Francis, March 2013]
Click to read more about forthcoming events
Self-Care for Volunteers:
14th September, 13:00 – 14:00, on Zoom
'You can't pour from an empty cup – take care of yourself first'
. As we are volunteering to support others, who is it that helps the helper when the pressure of a role becomes too much, when we disagree with another volunteer or client, or we have a bad day? Come to one of these regular sessions run by Caritas Westminster and the Irish Chaplaincy, to learn some tips and strategies for self-care, with opportunities for further support if you need it. Please register on Eventbrite:
https://www.eventbrite.co.uk/e/self-care-for-staff-and-volunteers-tickets-138513887767
Introduction to Volunteering: 21st September, 10 – 11:30 am, Zoom. Thinking about volunteering? Find out how to get started at a free interactive session run by Caritas Westminster. It is for people thinking about or just starting out in volunteering. Explore what your perfect role could be and how to find it, discover what your first days might be like, and how to deal with issues that may crop up along the way. This event covers all the basic need-to-knows about becoming a volunteer. Book your place on Eventbrite: https://www.eventbrite.co.uk/e/introduction-to-volunteering-tickets-159672389415
Volunteering Opportunity with the Caritas Volunteer Service The Caritas Volunteer Service is growing! We are looking for a couple of volunteers who share our passion for social action and volunteering. This is an opportunity to help transform lives throughout the Diocese by helping charities and outreach projects find volunteers. Deadline for applications: 31 July. For more information please contact: https://www.caritasvs.org.uk/volunteer-with-us.php

More information about Caritas Westminster  here.

Soup Run: Our Parish Soup Run still needs your donations – we are are currently having to buy cheese and margarine spread – but don't need tea or coffee.
We really need distributors, drivers and sandwich-makers! Contact Kit for more info on 07507 138582 or email kit.greveson@gmail.com. Many thanks to our wonderful, dedicated teams of sandwich makers and drivers! Kit
Food Bank donations: You can find details about the times when you can donate to Holy Trinity and other local foodbanks here.
Diocesan Pilgrimage to the Holy Land: 22nd – 30th November 2021, Led by Cardinal Vincent Nichols and visiting Galilee, Jerusalem and Bethlehem. Poster here.
Please, when attending Mass or visiting the church:
Wear a face covering
Sign the contact sheet on the table by the entrance or register your arrival with Track and Trace
Sanitize your hands on entering and leaving
Keep 2 metres apart from other people when moving round church e.g. for communion
Collections

Planned Giving Envelopes and Loose Cash:
If you are not attending Sunday Mass, your donations should be kept at home until they can be brought to church. Please do not post cheques to us as the post is somewhat erratic and unpredictable at present! If you want to make a catch-up payment when you return to Mass at St Peter's, you only need to put one envelope in the collection basket with all of your donation. Thank you.
Standing Orders
If you currently donate using Envelopes or loose cash, perhaps this is a good time to switch, if you can, to giving by Standing Order. The necessary form for your bank  can be found here. The information can also be used to set up a regular payment if you use online banking. You will make our Planned Giving Organiser's life much easier if you donate monthly rather than weekly – Thank you!
Online giving
If you are not attending Sunday Mass, you can give online here. We prefer a bank-to-bank transfer over debit or credit card payments as you can give us your name in the payment reference as well as telling us if the donation is for the Building Fund (BDF).