"The pandemic is not over." – Prime Minister
With the removal of the legal restrictions relating to covid from Monday 19th July, we will need to open up worship in church safely, respecting the feelings of those who want to continue to celebrate their faith in church while maintaining social distancing as well as the desire of others who want fewer restrictions. Regardless of the lifting of covid restrictions, we still have a legal duty to keep our premises safe. While we consider the best way to achieve this and can formulate a new approach for St Peter's, we ask parishioners please to continue to observe voluntarily the wearing of face coverings, signing the contact sheet and sanitising hands as well as maintaining social distancing in church. If you have views on the matter, please convey them to Fr Sean as we will continue to review guidance as the situation develops.
Specifically, on the advice of the Bishops' Conference:
Our Holy Water fonts will remain empty
The physical Sign of Peace/Kiss of Peace will remain suspended
Holy Communion will continue to be under one kind
We thank you for your cooperation. Fr Sean
A recent statement from the Catholic Bishops' Conference said:
We are mindful of the certain fact that the Covid-19 virus is still circulating in society. Vaccines provide genuine protection against the worst effects of the virus, yet we recognise the legitimate fear on the part of some who otherwise desire to gather for Holy Mass. It is our continuing judgement, therefore, that it is not possible at the present time for all of the faithful to attend Mass on a Sunday thus fulfilling their duty to God.
It is hoped that it will be possible for all Catholics in England and Wales to fulfil this most important Church precept, that of the Sunday Obligation, by the First Sunday in Advent 2021. In the meantime, all Catholics are asked to do their best to participate in the celebration of the weekly Sunday Mass and to reflect deeply on the centrality of Sunday worship in the life of the Church.
Family Room
Our Family Room activity this week takes it's theme from Sunday's psalm 'The Lord is my Shepherd' and asks us to think and pray about 'Letting God restore our souls'
Service times
Church opening: During the holiday period of July/August the church will only be open for Masses.
Sunday Masses are at 6:30pm (Saturday), 9:45am, 11:15am (livestreamed) and 7pm.
Weekday Masses are at 9am Monday to Friday after Morning Prayer at 8:45am unless there is a funeral Mass at another time.
Holy Hour on Friday from 7pm-8pm continues on Zoom. Please email us if you wish to join us or to ask us to pray for someone and have their name read out during Holy Hour.
The Funeral Mass for Nora Millicent Trotman will take place at St Peter's on Friday 23rd July at 11am followed by Cremation at Golder's Green at 1pm
Sunday Mass – 16th Sunday in Ordinary Time – The 11:15 Sunday Mass will be livestreamed on YouTube and will be available to watch afterwards.
11:15am Mass Hymns & Bidding Prayers
Sunday Scripture readings
Notes on the Sunday Scripture readings
Find other livestreamed Masses in the diocese.
Love is….
… being a good student of another, looking for their physical, emotional, and spiritual needs so that in some way you can remove the burden, support them as they carry it, or encourage them along the way..
From '23 things that Love is' by Paul Tripp
Please pray for: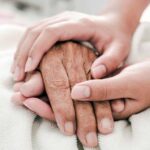 Those who are ill: Christian Overal, Antonio Neto, Zintra Sansom, Brenda Buzec, Amy Gordon, Annette Donivar, Margaret Bradley, Caroline Hilton, Karin Summers, Graham Summers, Joan Summers, Helen Kozlowski, Don Brewis, Roman Cholij, Adeline Oyekoya, Mary Wallace, Bruna Moia, Sister Pia, Margaret Whelan, Kitty Madden, Clare Bruce, Brendan Whelan, Claire Marchand, Mike Coombes, Mira Lidstone, Gemma Francis, Richard Simon, Noah Purcell–Chandler, Safina Malik, Nathalie Renford, Jackie Loivette, Michael Reid, Carmel Palao, Wendy Fairhurst, Ann Elizabeth Bennett, Gwen Dickson, Joseph Lunn, Tom Shiels, Jeremy Brock, Mrs Breda Cassidy, John O'Shea, John Sherwood and Kay McDougall.
Those who have recently died: Catherine Breen, Jimmy C (Dimitrios Koletsis), Mercedes Dybongco, John Sullivan, Tom Gordon, Sister Margaret Begley RIP.
Other News
"CCRS gave me such understanding and confidence about my faith for my parish work." 
The Catholic Certificate in Religious Studies (CCRS) provides parish leaders with knowledge and understanding of theology and the Catholic faith. 88% participants recommend the course to others. Learn in person, by distance learning or online For more information visit brs-ccrs.org.uk
"The Church evangelises by the beauty of the liturgy. Let us ask for the personal and sincere meeting with Christ who lives in the liturgy that our lives may be a spiritual sacrifice offered to God." [Pope Francis – February 2021]
'Taking Liturgy Seriously' will be run by the Society of Saint Gregory in partnership with the London Jesuit Centre and take place via Zoom from September 2021 – June 2022, and will give the opportunity to explore the Catholic liturgy through a series of distinct yet complementary modules of study. Visit this website for more information and pricing.
'The measure of the greatness of a society is found in the way it treats those most in need, those who have nothing apart from their poverty.' – [Pope Francis, March 2013]
Click to read more about forthcoming events
Self-Care for Volunteers:
13th July and 14th September, 13:00 – 14:00, on Zoom
'You can't pour from an empty cup – take care of yourself first'
. As we are volunteering to support others, who is it that helps the helper when the pressure of a role becomes too much, when we disagree with another volunteer or client, or we have a bad day? Come to one of these regular sessions run by Caritas Westminster and the Irish Chaplaincy, to learn some tips and strategies for self-care, with opportunities for further support if you need it. Please register on Eventbrite:
https://www.eventbrite.co.uk/e/self-care-for-staff-and-volunteers-tickets-138513887767
Introduction to Volunteering: 21st September, 10 – 11:30 am, Zoom. Thinking about volunteering? Find out how to get started at a free interactive session run by Caritas Westminster. It is for people thinking about or just starting out in volunteering. Explore what your perfect role could be and how to find it, discover what your first days might be like, and how to deal with issues that may crop up along the way. This event covers all the basic need-to-knows about becoming a volunteer. Book your place on Eventbrite: https://www.eventbrite.co.uk/e/introduction-to-volunteering-tickets-159672389415
Volunteering Opportunity with the Caritas Volunteer Service The Caritas Volunteer Service is growing! We are looking for a couple of volunteers who share our passion for social action and volunteering. This is an opportunity to help transform lives throughout the Diocese by helping charities and outreach projects find volunteers. Deadline for applications: 31 July. For more information please contact: https://www.caritasvs.org.uk/volunteer-with-us.php

More information about Caritas Westminster  here.

Soup Run: Our Parish Soup Run still needs your donations – we are are currently having to buy cheese and margarine spread – but don't need tea or coffee.
We really need distributors, drivers and sandwich-makers! Contact Kit for more info on 07507 138582 or email kit.greveson@gmail.com. Many thanks to our wonderful, dedicated teams of sandwich makers and drivers! Kit
Food Bank donations: You can find details about the times when you can donate to Holy Trinity and other local foodbanks here.
Diocesan Pilgrimage to the Holy Land: 22nd – 30th November 2021, Led by Cardinal Vincent Nichols and visiting Galilee, Jerusalem and Bethlehem. Poster here.
Please, when attending Mass or visiting the church:
Wear a face covering
Sign the contact sheet on the table by the entrance or register your arrival with Track and Trace
Sanitize your hands on entering and leaving
Keep 2 metres apart from other people when moving round church e.g. for communion
Collections

Planned Giving Envelopes and Loose Cash:
If you are not attending Sunday Mass, your donations should be kept at home until they can be brought to church. Please do not post cheques to us as the post is somewhat erratic and unpredictable at present! If you want to make a catch-up payment when you return to Mass at St Peter's, you only need to put one envelope in the collection basket with all of your donation. Thank you.
Standing Orders
If you currently donate using Envelopes or loose cash, perhaps this is a good time to switch, if you can, to giving by Standing Order. The necessary form for your bank  can be found here. The information can also be used to set up a regular payment if you use online banking. You will make our Planned Giving Organiser's life much easier if you donate monthly rather than weekly – Thank you!
Online giving
If you are not attending Sunday Mass, you can give online here. We prefer a bank-to-bank transfer over debit or credit card payments as you can give us your name in the payment reference as well as telling us if the donation is for the Building Fund (BDF).