CAFOD Harvest Fast Day – Friday 9th October
This is a Harvest like no other as many families face chronic food shortages, malnutrition and poverty as the result of coronavirus. This week, our parish is marking CAFOD's Family Fast Day to help people facing the worst of the coronavirus crisis. We've all felt the impact of this terrible disease – let's come together to help the poorest and most vulnerable people in the world survive, rebuild and heal. Please pray for all those affected and donate online at cafod.org.uk/give or by using one of the envelopes after Mass. You can also give easily via text. Text CAFOD to 70085 to donate £10.
The Family Room
Visit the Family Room for this week's family activity – 'participating in the CAFOD Family Fast Day'.
A farewell message from Sisters Ann and Pauline, Sisters of Providence
Dear Parishioners, unfortunately we have to let you know that due to health reasons Sisters Ann and Pauline will be leaving the Parish to join our sisters in Lincoln. We shall be leaving on the 20th October. Sisters Mary Margaret and Gill will continue to live in the Parish. Sr Ann thanks Father Sean and the parishioners for their support and love throughout her many years at St Peter's. We shall miss you all, but hope to remain united in prayer wherever God leads us all.
Help protect babies with cleft lip, cleft palate and club foot
Sadly abortion is currently available in the UK, right up to birth, for babies with cleft lip, cleft palate and club foot. All of these conditions can be corrected. A cross-party group of MPs from the three largest parties in the UK Parliament have come together to bring forward the Abortion (Cleft lip, cleft palate and club foot) Bill. The Bill will change the law to clarify that cleft palate, cleft lip, and club foot are not grounds for abortion in the UK. Can you help with getting your MP to support the Bill? Please visit www.standupandsmile.org.uk to email your MP asking them to support the Bill. It only takes 30 seconds. Thank you. Catherine Robinson, Right To Life UK
Rest in Peace
The funeral of Jarlath Patrick Ford took place at Islington crematorium on Friday 9th October. Please remember the family in your prayers.
Opening and times of Services
Mass and service times this week are as shown in the left hand side panel. Everyone attending Mass is asked to wear a face covering while in church and must complete the signing in sheet so we have 'track and trace' records. Thank you.
The following will be livestreamed:
Sunday 11th October – 9:45am – Mass 

Friday 16th October – 7pm – 8pm – Holy Hour 
Links:

– Livestream on Twitter

– Livestream on YouTube & Twitter

– Livestream on Zoom – see Holy Hour details below
Sunday Hymns, Bidding Prayers etc.
Sunday Scripture readings
Notes on the Sunday Scripture readings
Find other livestreamed Masses in the diocese.
Click for Prayer of Spiritual Communion
My Jesus,
I believe that you are present in the Holy Sacrament of the altar.
I love you above all things
and I passionately desire to receive you into my soul.
Since I cannot now receive you sacramentally,
come spiritually into my soul so that I may unite myself wholly to you
now and forever.
Amen.
For everyone's peace of mind and safety, please follow the Visitor guidelines below. Note there are no toilet facilities available at present.
Visitor guidelines
Try and arrive a few minutes before Mass is due to begin
Enter the church through the porch and sanitise your hands
Ushers will direct people as they enter the church
Parents should keep young children with them
Sit only where there is a green card either as an individual, couple or family
Follow the instructions of Fr Sean and ushers when moving round the church for communion or to leave at the end of Mass and maintain social distancing
Turn the green card over to red when you leave
Sanitise your hands and move away from the church on leaving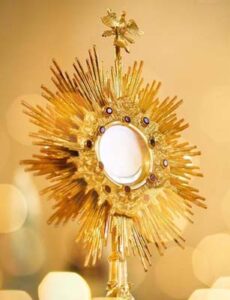 Holy Hour – Friday – 7 – 8pm
Please email stroudgreen@rcdow.org.uk if you wish to participate on Zoom and you will be sent the details. Participants will be able to log on from 6:45pm.
Click to ask us to pray for someone and have their name read out during Holy Hour
Preparing for the Sacraments for 2021
This is the time of year when normally we would be publishing details of the new Confirmation, First Holy Communion and RCIA programmes to prepare young people and adults to receive the sacraments in 2021 and we have already received some enquiries. You will not be surprised that, at the moment, we are not sure how we will proceed. We will inform you via the website, Twitter and Facebook when we do know.
October Devotion at the Shrine of Our Lady of Willesden
Sadly the current Covid regulations preclude making the October Torchlit Procession at the Shrine. However, not to be deterred, there will be an October Devotion here next Sunday 11th October 7pm, Rosary, Homily – Br. Andrew Brookes OP, & Benediction. Music sung by the Shrine Singers. Livestream on parish.rcdow.org.uk/willesden or on Facebook: Willesden Shrine.
See Fr Sean
You can see Fr Sean without an appointment at the presbytery on Tuesdays from 5pm – 7pm while of course maintaining social distancing and wearing a mask.
Secondary School Open evenings
Visit our school transfers and admissions page for links to details of online Open Evenings at our secondary schools. Bishop Douglass has announced an additional virtual tour on 14th October.
SOUP RUN – volunteer Drivers URGENTLY needed
To take the strain off our current wonderful drivers who have made our coronavirus response work possible and to continue to serve those less fortunate than ourselves, we desperately need more drivers. Flexible rota to suit volunteer. Saturday shift from 6pm to ca 8:30pm. Guidelines observed to ensure safety of volunteers and beneficiaries. Contact Kit for more info on 07507 138582 or email kit.greveson@gmail.com. Many thanks.
Food Bank donations
You can find details about the times when you can donate to Holy Trinity and other local foodbanks here.
From the Society for the Protection of Unborn Children
Help stop DIY abortions During the Coronavirus pandemic unborn babies and their mothers have been at even greater risk of abortion. The Government's "pills through the post", brought in as Covid measure, means that over 23,000 women in England and Wales aborted their baby at home during lockdown. Please help us to spread the truth about DIY abortion and save women and babies from the tragedy of abortion. Will you deliver pro-life information leaflets about DIY abortions door-to-door in your area? Every leaflet could make the difference to a vulnerable woman and save a baby's life. Please go to our website to learn more and order some leaflets. Or you can order leaflets by calling SPUC on 020 7091 7091.
Sign the petition to save the right to save lives Pro-abortion MPs in Parliament want to stop pregnant women getting help outside abortion clinics by calling for buffer zones. SPUC is campaigning to save the right for peaceful pro-life vigils to take place. Hundreds of children are alive today in this country because their mother met a loving pro-life person just before they walked into the abortion clinic. We must protect this vital work. Please sign our petition to save the right to save lives. It only takes a minute of your time, but it could mean a lifetime for an unborn baby. You can sign the petition here: https://spuc.org.uk/SaveTheRightToSaveLives
Please pray for:
Those who are ill: Christian Overal, Antonio Neto, Zintra Sansom, Brenda Buzec, Amy Gordon, Annette Donivar, Margaret Bradley, Caroline Hilton, Karin Summers, Graham Summers, Joan Summers, Helen Kozlowski, Don Brewis, Roman Cholij, Adeline Oyekoya, Mary Wallace, Bruna Moia, Sister Pia, Margaret Whelan, Kitty Madden, Clare Bruce, Brendan Whelan, Claire Marchand, Mike Coombes, Mira Lidstone, Gemma Francis, Augustine Okonta, Richard Simon, Noah Purcell–Chandler, Safina Malik, Jay Williams, Nathalie Renford, Joanie Macarthy, Jennifer Mann, Jackie Loivette, Frances Byrne, Grenville Ignatius, Michael Reid, Vera Boles, Eileen Reavey, Carmel Palao, Wendy Fairhurst, Ann Elizabeth Bennett, Alan Roberts and Ann Turner.
Those who have recently died: Jarlath Patrick Ford RIP.
The Sunday Collections
Planned Giving Envelopes:
If you are not attending Sunday, Planned Giving Envelopes containing your donations should be kept at home until they can be brought to church. Please do not post cheques to us as the post is somewhat erratic and unpredictable at present! If you want to make a catch-up payment when you return to Mass at St Peter's, you only need to put one envelope in the collection basket with all of your donation. Thank you.
Loose cash
If you are not attending Sunday Mass and you normally give loose cash or notes, you can give online here using a debit or credit card; the link also gives our bank account details if you wish to make a bank-to-bank transfer. Alternatively you could put money aside until the church re-opens.
Standing Orders
If you currently donate using Envelopes or loose cash, perhaps this is a good time to switch, if you can, to giving by Standing Order. The necessary form for your bank  can be found here. The information can also be used to set up a regular payment if you use online banking. You will make our Planned Giving Organiser's life much easier if you donate monthly rather than weekly – Thank you!