Opening and times of Services
The church will be open as follows:
Saturday 18th July
6:30pm – Mass of Sunday


Sunday 19th July
9:45am – Mass
11:15am – Mass

2pm – 4pm – private prayer
Monday  – Friday, 20th – 24th July
8:30am – 10am – private prayer
9:00am – Mass preceded by morning prayer at 8:45am


Wednesday 22nd July
5:30pm – 7:30pm – private prayer
Friday 24th July
7pm – 8pm – Holy Hour

Saturday 25th July
6:30pm – Mass of Sunday
Sunday 26th July
9:45am – Mass
11:15am – Mass

2pm – 4pm – private prayer
7pm Mass will resume after the holiday season
Livestream links:

– Livestream on Twitter

– Livestream on YouTube & Twitter

– Livestream on Zoom – see Holy Hour details below
Weekday Scripture readings
Sunday Scripture readings
Notes on the Sunday Scripture readings
Morning prayer
Sunday Mass sheet (if available)
Sunday Hymns, Bidding Prayers etc.
Click for Prayer of Spiritual Communion
My Jesus,
I believe that you are present in the Holy Sacrament of the altar.
I love you above all things
and I passionately desire to receive you into my soul.
Since I cannot now receive you sacramentally,
come spiritually into my soul so that I may unite myself wholly to you
now and forever.
Amen.
To ensure we do not exceed the maximum congregation size of 60 plus family members, if you wish to attend Mass in church on Saturday or Sunday or to volunteer as a Steward, please email stroudgreen@rcdow.org.uk or phone 020 8340 3394.
For everyone's peace of mind and safety, please follow the Visitor guidelines below. Note there are no toilet facilities available at present.
Visitor guidelines
Try and arrive a few minutes before Mass is due to begin
Enter the church through the porch and sanitise your hands
Ushers will direct people as they enter the church
Parents should keep young children with them
Sit only where there is a green card either as an individual, couple or family
Follow the instructions of Fr Sean and ushers when moving round the church for communion or to leave at the end of Mass and maintain social distancing
Turn the green card over to red when you leave
Sanitise your hands and move away from the church on leaving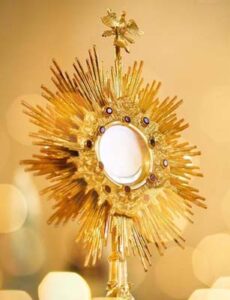 Holy Hour – Friday – 7 – 8pm
'Zoom' is being used to share the Holy Hour. Next Friday, 24th July, the church will be open for Holy Hour as well.  Please email stroudgreen@rcdow.org.uk if you wish to participate on Zoom and you will be sent the details. Participants will be able to log on from 6:45pm.
Click to ask us to pray for someone and have their name read out during Holy Hour
The Family Room
Visit the Family Room for this week's family activity  where there are lots of ideas to – serve the community!
CAFOD Coronavirus Appeal
As the United Nations makes an appeal for $10.3 billion (£8.2 billion) to help fight the coronavirus pandemic, saying up to 265 million people could face starvation by the end of the year because of the impact of Covid-19, CAFOD has joined with the UK Disasters Emergencies Committee to help millions of people whose lives are at risk, as coronavirus spreads across refugee camps and countries suffering conflict. You can donate online to help CAFOD scale up its coronavirus response through our global Church family. Or use CAFOD's Summer of Hope fundraising ideas with your family and friends to transform lockdown and raise money for the appeal.
Virtual Lourdes Pilgrimage
As the Diocesan Lourdes Pilgrimage cannot take place this year, a virtual pilgrimage will take place instead from 26th June to 1st August, with a full programme of Masses and devotions. Full details can be found on this poster. All are welcome to join in this virtual pilgrimage on the dedicated Westminster Diocese Lourdes Pilgrimage YouTube channel.
With a reflection each day from a different member of the Chaplaincy team. Themes will include: Come into the hills, Take my hands, Living Life to the Full, Looking Ahead with Hope. Click the image to see the poster.
A Catholic Response to George Floyd and Black Lives Matter
Westminster Justice and Peace Commission are running an event exploring how we respond to racial injustice and discrimination as a diverse and multicultural Catholic community. This online event takes place on 24th July from 7.30pm to 8.30pm. Guest speakers include Baroness Scotland (London, UK) and Leslye Colvin (Alabama, USA) who will guide a reflection on responses and what action to take. Register on Eventbrite.
The Saints in the porch window
If you can't work out who all the Saints are in our porch window, click on the photo and find out more.
Rest in Peace
Please pray for the repose of the soul of Frances Herlihy who died recently and remember her family.
Soup Run – Congestion Charge Appeal
The London Congestion Charge was temporarily increased by Transport for London to £15 per day and had its hours of operation extended to between 7am and 10pm, seven days a week from 22nd June. As we need to use 3 cars each Saturday for the Soup run to ensure Social Distancing, this is now costing us £45 per week. While we try to make representations to see if we can be given an exemption, if any parishioners feel able to make a donation to help defray the cost, it will be greatly appreciated. You can give donations to Fr Sean or place them in the wall safe near the church door marked 'Soup Run'. Many thanks to those who have already donated.
Food Bank donations
You can find details about the times when you can donate to Holy Trinity and other local foodbanks here.
Cardinal's Appeal 2020
The Cardinal's Lenten Appeal has been extended to help those who are in desperate need due to the Covid-19 pandemic. Funds raised will be available for parishes and schools across Westminster Diocese to respond to the needs of their local communities. Our parish has already received support from Caritas Westminster for our Soup Run. If you are able to contribute to support this cause and help this work continue we would be very grateful. You can donate online at https://rcdow.org.uk/donate/cardinals-appeal/
Please pray for:
Those who are ill: Christian Overal, Antonio Neto, Zintra Sansom, Brenda Buzec, Amy Gordon, Annette Donivar, Margaret Bradley, Caroline Hilton, Karin Summers, Graham Summers, Joan Summers, Helen Kozlowski, Don Brewis, Roman Cholij, Adeline Oyekoya, Mary Wallace, Bruna Moia, Sister Pia, Margaret Whelan, Kitty Madden, Clare Bruce, Brendan Whelan, Claire Marchand, Mike Coombes, Mira Lidstone, Gemma Francis, Augustine Okonta, Richard Simon, Noah Purcell–Chandler, Safina Malik, Jay Williams, Nathalie Renford, Joanie Macarthy, Jennifer Mann, Jackie Loivette, Frances Byrne, Grenville Ignatius, Michael Reid, Vera Boles, Eileen Reavey, Carmel Palao and Wendy Fairhurst.
Those who have recently died: Jean Robert Bondzanga, Joseph McLoughlan & Frances Herlihy RIP
Other prayer intentions:
For Mira Lidstone that she is kept safe and all the residents and staff at Nazareth house.
The Sunday Collections
Planned Giving Envelopes:
If you are not attending Sunday, Planned Giving Envelopes containing your donations should be kept at home until they can be brought to church. Please do not post cheques to us as the post is somewhat erratic and unpredictable at present!
Loose cash
If you are not attending Sunday Mass and you normally give loose cash or notes, you can give online here using a debit or credit card; the link also gives our bank account details if you wish to make a bank-to-bank transfer. Alternatively you could put money aside until the church re-opens.
Standing Orders
If you currently donate using Envelopes or loose cash, perhaps this is a good time to switch, if you can, to giving by Standing Order. The necessary form for your bank  can be found here. The information can also be used to set up a regular payment if you use online banking. You will make our Planned Giving Organiser's life much easier if you donate monthly rather than weekly – Thank you!